Hybrid Cloud Storage Solution
Alliance Storage Technologies, Inc. (ASTI) brings new dimension to long-term data archiving with the innovative hybrid cloud storage solution. The solution combines the strengths of multiple technologies to provide a data archiving infrastructure that drives competitive and financial business advantages.
Businesses and enterprises can now realize an archiving system specific to the needs of the organization. ASTI's specific implementation of hybrid Cloud-Integrated Storage (CiS) is an all-in-one Network Attached Storage (NAS) solution integrated into a single footprint that provides users with affordable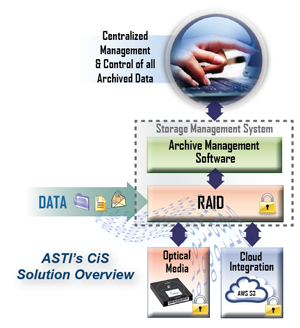 choices for archiving according to capacity, scalability, performance, features, and budget.
Blending compliant archive storage technologies with the reliability, availability, and utility of the Cloud, ASTI delivers the next generation of hybrid data archive storage solutions designed to manage valuable digital content. Access, manage, and view all data anywhere within the archiving ecosystem as part of regular IT operations with onboard-integrated data management.
The multi-faceted architecture is equipped with features that address the contemporary requirements of data storage infrastructures such as compliance with industry regulations, disaster recovery, high-availability and the benefits of the Cloud.
Contact ASTI Sales: 719-593-7900 or submit a Request for Quote.
---
Solution Overview
ASTI's hybrid cloud provides users with affordable choices for archiving data locally or in Cloud based archives. Authenticated users have seamless access to data stored anywhere within the archiving ecosystem (locally and/or the Cloud).
How does ASTI's Cloud Solution Work?
Archive Management Software (AMS) w/ Cloud Feature
As an integral part of the solution, the flexible software provides all the capabilities necessary for proficiently and effectively archiving, managing, and randomly accessing data. Establish policies that determine when, and to what source, the data files are to be archived, after which the files are migrated automatically to their directed source. For additional data security, implement the Encryption feature as well. The Replication option is available for high-availability requirements.

Storage Management System (SMS) - Add the Elite SMS, the high-performance up-front server system with RAID and interface to optical media and Cloud. Elite offers the power, performance, and high-availability of hardware components necessary for expedient migrations and recalls.

Optical Media Libraries - Select from a variety of field-proven and reliable scalable optical libraries suitable for any sized business, organization, or archive size from small-medium or Enterprise.

Amazon Web Services S3 - Clients will work directly with AWS to obtain Cloud services under the Simple Storage Service (Amazon S3) service level agreement. ASTI CiS solutions integrate seamlessly with Amazon S3 services that can be used to store and retrieve any amount of data. Amazon S3 features highly scalable, inexpensive pay-as-you-go pricing to handle growing storage needs. S3 provides a secure infrastructure with up to 99.99% durability, with 99.99% availability.