Authorized Service Provider (ASP) Program Overview
ASTI understands the importance of maintaining the continuous operation of valuable archiving libraries and systems in order to access to the digital assets they protect. As a result, ASTI has developed the Authorized Service Provider (ASP) program designed to provide every customer with consistent, quality global maintenance services.

ASTI ASP's offer worldwide support services for Plasmon and ASTI equipment and systems. All ASP's are required to meet stringent standards for quality service with a singular focus on resolving issues in a timely manner. This ensures that all customers receive the highest level of care and support.

ASTI's base of worldwide ASP's offer timely and cost-effective support solutions for Plasmon™ and ASTI branded equipment. ASTI selects only excellent providers with quality service operations and trained field engineers. All ASP's are backed directly by ASTI's engineering and development teams. ASP's act as an extension of the ASTI service team, ensuring that customers receive the same high-level quality care and support received directly from ASTI.
Non-Authorized Service Providers
Non-authorized service providers do not have access to the all the above benefits. Their service capabilities are not certified by ASTI and it is unknown as to the level of service that can be provided by them. A non-authorized provider is not backed by ASTI and will not be entitled to receive or distribute the latest firmware and software for Plasmon™ and ASTI products including updates and patches, product maintenance and feature enhancements.
Benefits of the ASP Program
ASTI offers training for all ASP partners. ASTI's comprehensive training program ensures ASP technicians are trained and certified to diagnose, analyze, and repair our equipment, so customers can be confident in the quality of service. With ASP's unlimited access to ASTI's support team, problems and issues are resolved promptly and proactively. ASTI provides the highest level of expertise through our engineering teams when servicing your ASTI and Plasmon brands of products.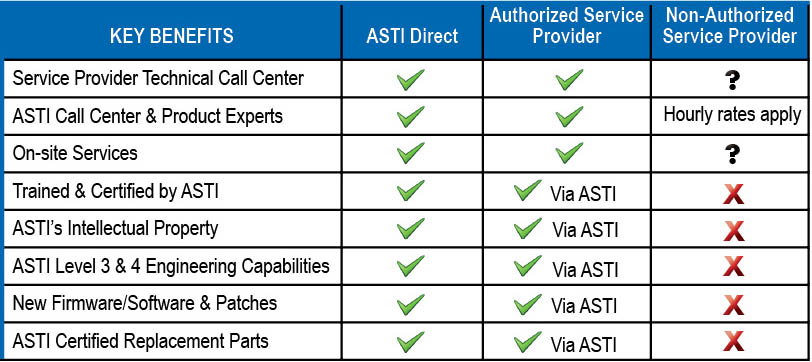 Authorized Service provider Key Benefits in Detail
Service Provider Technical Call Center
Level 1 and 2 problem analysis to better determine the source of issues being encountered.
Provides resolution by work around, dispatching of on-site service, or escalation to engineering resources
ASTI Call Center and Product Experts
Level 3 product specialists provide full support to Authorized Service Providers
Assist with problem analysis, providing remote system analysis and work-arounds
Pull ASTI product engineers (hardware and software) into problem analysis and resolution as required.
On-Site Services
Manufacturer trained service personnel dispatched with appropriate certified replacement parts to the site.
Trained and Certified by ASTI
ASTI provides training for all Authorized Service Provider Service Technicians. In this way, customers can be assured that the service representatives servicing equipment are knowledgeable and capable.
ASTI certifies all Service Representatives that have been trained and re-certifies them every two years.
Updated service DVD's
ASTI's Intellectual Property

Authorized Service Providers have full usage rights to select ASTI Intellectual Property (IP), which facilitates a much higher quality of service including:
Full access to ASTI's historical product Knowledge Bases
Full access to ASTI's product specific utilities, which facilitate product analysis and isolation of product issues
Full access to ASTI's Service Manuals, which provide Service Representatives detailed instructions on service procedures
Password protected website access
Service diagnostics tools
Media analysis tools (UDO)
ASTI Level 3 & 4 Engineering Capabilities
Level 3 product experts with extensive product knowledge with access to proprietary product specifications
Level 4 engineers with the knowledge and expertise to analyze, modify and patch proprietary intellectual property, including software, firmware and hardware
Extensive engineering analysis and investigative capabilities
New Firmware/Software and Patches
Full access to new product releases of firmware or software
New or enhanced features
Support for hardware/software components requiring modification, supporting:
Environmental changes (security, OS, hardware changes, etc.)
Product evolution (sustaining engineering activities)
Re-engineering actions due to manufacturing/supply-chain issues
ASTI Certified Replacement Parts
ASTI and Plasmon manufactured and Certified replacement parts