Ultra Density Optical (UDO) Storage Products
Ultra Density Optical (UDO) drive and media technologies are the core of the UDO optical libraries which have been field proven for more than 10 years and deployed in thousands of customer locations around the world. UDO represents several generations of technological advancements in optical technology designed specifically for professional data archiving. It provides data authenticity for regulatory compliance, or other applications where archived data must remain unchanged and authentic. UDO was designed and proven to deliver over a 50-year-plus media life providing industry leading advancements in blue laser technology with media capacities reaching 60GB per cartridge. UDO optical libraries are available in the following product lines.
UDO Archive Appliance Libraries
UDO Archive Appliance libraries are Network Attached Storage (NAS) libraries that are available in a variety of models and capacities from Entry-Midrange to Enterprise libraries with the ability to scale and expand with business requirements.
UDO G-Series Libraries
UDO G-Series libraries are Direct Attached Storage (DAS) libraries and are available in a variety of models from Entry-Midrange to Enterprise libraries with the ability to scale and expand with business requirements.
Archive Appliance Libraries
UDO Archive Appliance
Network Attached Storage (NAS) Libraries
The Archive Appliance product line features modular architecture and design in order to provide customers with an optimized data archiving solution. Each Network Attached Storage (NAS) archiving solution can be configured specifically for the needs of the organization according to capacity, scalability, performance, features, and budget.

All data is cached to RAID providing faster access to active archived data and is then committed to optical storage, and/or Cloud, for long-term preservation depending upon user requirements. Alliance Archive Appliances are up and running in only a few minutes and present themselves as standard NAS appliances over the TCP/IP network with support for Windows CIFS, Unix/Linux NFS, and FTP protocols.

Click here to learn about NAS solution upgrades
Overview
Alliance's Archive Appliance line of NAS storage devices combine all of the resources necessary for managing and storing data effectively over the long-term. NAS storage devices consist of:
Storage Management System (SMS)
One or more fully automated optical archiving libraries
Archive Management Software (AMS) (preconfigured) with optional features. Click here to view the Archive Management Software page
Storage Management System (SMS) with RAID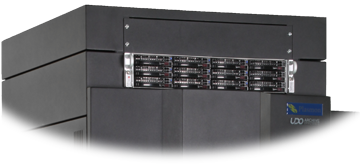 Selection of one of the two SMS options is dependent upon the features implemented, performance required, RAID size, and budget.
Standard SMS: Available for Entry and Midrange models. Suitable for small to medium business environments and general purpose archive storage applications. Can be configured with between 2 and 12 RAID drives with software controlled 2-12TB of RAID (RAW) cache. Features SCSI connectivity to the library and drives.
Click here to learn more about standard models (entry midrange datasheet) (link to DS014 in Resource Library)
Elite SMS: The high-performance Elite SMS provides up to 400% faster overall through-put than the standard SMS. Well-suited for conditions where increased throughput and high-availability are necessary, it is available with Entry, Midrange and Enterprise models. The Elite SMS can be configured with 8 and 12 RAID drive configurations. Features include:
Archive Controller w/Quad Core Processor
UP to 24TB RAID Cache (RAW)
SAS Drives with increased speeds
Direct connectivity to library drives
Hardware RAID Controller with BBU
RAID Configuration Protection
RAID 5 and RAID 6 level & hot spare options
Redundant Power Supplies
Click on a link to the right to download Elite datasheets
Optical UDO Library - Model Sizes and Capacities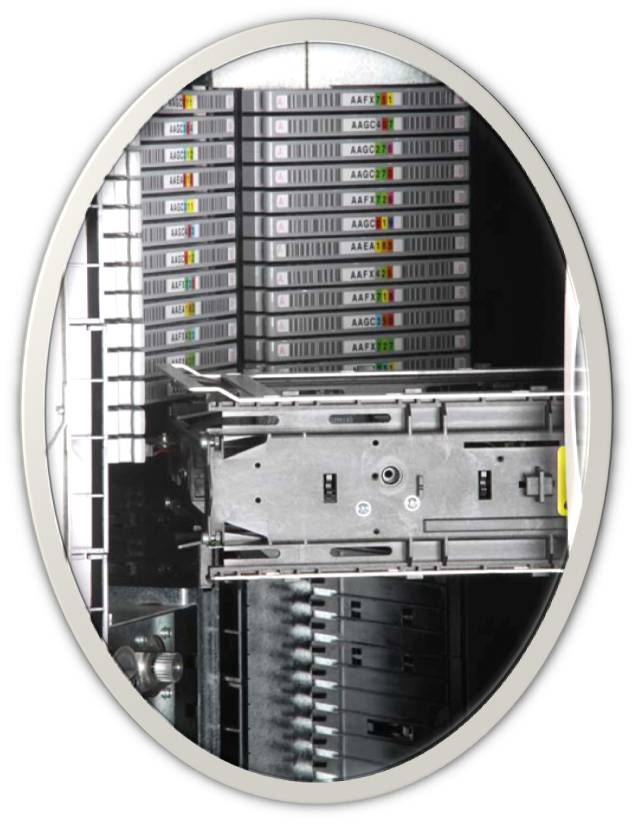 UDO optical libraries are available in a variety of capacities suitable for supporting any-sized data archiving requirements from small businesses and courtrooms to large corporations and enterprises. Selection is determined by projected current and future library and media capacity requirements, and hardware component redundancies.
Alliance optical libraries are available in a variety of models. Entry-Midrange and Enterprise libraries offer designed-in investment protection with the ability to scale and expand with business requirements. In most cases, libraries can scale to accommodate data growth without changing footprint size.
At the heart of every field-proven library is regulatory compliant optical media. The true Write-Once-Read-Many (WORM) media offers superior longevity making it a cornerstone for organizations subject to industry regulations. Optical media offers an affordable disaster recovery solution with each library having the capability of automatically generating multiple copies of media, one of which can be preserved offsite.
Archive Management Software (AMS)
The AMS is an important aspect of Archive Appliance Solutions.
Archive Management Software Platform (AMS)
Electronically stored data is doubling every two years and is driving the need for efficient and cost-effective management solutions to reduce cost, complexity and business risk. This exponential growth combined with increasing internal governance (e.g., business continuity requirements), regulatory compliance and security mandates are placing new demands on data storage operations to retain, secure and protect data for long-term preservation.
Alliance Storage Technologies designed its Archive Management Software Platform (AMS) from the ground-up to address these constantly evolving requirements – addressing the need to intelligently archive, manage, optimize and secure critical information assets for 100+ years. The AMS platform enhances data retention with game-changing archiving flexibility, performance, scalability and cost efficiency, so that business critical environments and highly regulated industries, including financial services, healthcare, security and surveillance and the public sector can archive and retain data without compromise.
From creation to long-term preservation, the AMS platform manages the entire data archive lifecycle through a single pane of glass with the flexibility and elastic scalability that dynamic organizations require to support rapidly growing data volumes on-premises, into the cloud and across hybrid storage environments.
Learn more about Archive Management Software advanced features:
Features and Benefits
Powerful Help Tools and Archive Management Policies – eliminate the need for specialized training and resources, enables fast and easy set-up, configuration and flexible modification of archiving and management parameters.
Built in Diagnostics and Notifications – allows you to "set it and forget it."
Highly Configurable and Versatile Platform – provides powerful policy-based control for data migration and management.
Continuous Monitoring and Customizable Notifications – streamline management efficiency.
Designed Expressly for Usability and Efficiency – enables users to manage virtualized archive storage volumes, file folders, file releases and migrations, online and offline media, and data stored on-premises and in public clouds (e.g., Amazon Web Services (AWS) and Microsoft Azure).
Built-In Disaster Recovery (DR) Utilities – enables users to choose the appropriate policies to support their business continuity requirements.
Encryption - added security, especially important to the legal, government, financial, healthcare insurance and security and surveillance, sectors.
Replication – allows replication of data to one or more additional libraries in separate geographical locations to ensure high availability (HA) and business continuity – critical business operations are maintained even in the event of a major catastrophic event.
WORM Storage – data stored in immutable state to ensure authenticity.
Failover/Failback Capabilities – further ensures Recovery Time Objectives (RTO).
Support for Cloud-Based Archives – complete control and management efficiency for data stored in active cloud tier.
Backup and/or Offsite Physical Storage – flexibly meet business, regulatory and budgetary data retention objectives.
The AMS Pro advanced feature set can be enhanced by enabling options such as Encryption, Replication, and Cloud.
Data Encryption Secures and Protects Data Assets
Secure valuable data from unauthorized access with the AMS's Encryption feature.
The news is filled with stories about security breaches, corporate espionage, hackers, and information leaks. Many industries face mandates that require encryption while others consider it a business necessity. Nevertheless, protecting valuable corporate assets has never been more important, especially with the increasing number of industry regulations and the fines imposed for each breach.
Any enterprise that has a requirement for protecting data can benefit from the added security that encryption provides, however, it is especially important to the security and surveillance, legal, government, financial, healthcare and insurance sectors. The Healthcare Information Technology Act (HITECH) requires patient records to be encrypted and levies steep fines for breaches. These far-reaching mandates apply to healthcare institutions, physician's offices, and their business associates, which can include insurance companies, financial institutions, or any company dealing with patient records.
How does it work?
The Alliance data encryption option is enabled through the Archive Management Software (AMS)
Meets U.S. and Canadian guidelines with FIPS 140-2 compliant, AES 256-bit encryption algorithms
Encryption applies to all data stored on optical media and Cloud-Integrated Storage
Fileshare partitions are specified for encryption through AMS policies prior to being migrated to optical media or the Cloud
Symmetric encryption keys for each file are generated and protected by symmetric encryption wrapping keys which are generated via FIPS 140-2 compliant random number generator
License key management is implemented in accordance with NIST Special Publication 800-57 Recommendations for Key Management such that all keys are stored remotely away from the data
Symmetric Encryption Keys for each data file are protected and stored in an encrypted format utilizing Symmetric Encryption Wrapping Keys for each Archive Volume
Data Encryption Features and Benefits:
Assures compliance with stringent industry regulations, HIPAA/HITECH, PCI requirements, and more
Secures data silently in the background automatically protecting sensitive data.
Prevents against accidental or intentional alteration of data
Protects data from unauthorized access due to theft or loss of physical media while in transit
Safeguards business reputation - the cost of a breach may include loss of customers, class action lawsuits, and damage to brands
Eliminates the need for third party software (Alliance developer-integrated solution)
Defends against corporate espionage or malicious attacks
Reduces the risk of regulatory penalties that could result from a potential breach
Increases confidence in the security of data stored off-site or in the Cloud
For additional information contact an Alliance Data Archive Expert at 719-593-7900 or submit a Request for Quote