Archiving vs Backup - The Difference Between Backup and Archival Storage Solutions
Organizations need storage products that provide authenticity, long-term retention of data and low total cost of ownership over time, without sacrificing the need for fast access and reliability. However, confusion often arises over the difference between backup and archival storage products and the specific technologies that address each need. With continuing high overall storage growth rates and with approximately 80% of data being static fixed content, companies must understand and distinguish between their backup and archiving needs before choosing the appropriate storage solutions to meet those needs.
"Too many companies believe backup and archiving are one and the same; in fact, they are separate processes that can actually improve one another." -
Essentially, a backup is designed as a short-term insurance policy to facilitate disaster recovery, while an archive is designed to provide ongoing rapid access to decades of business information while simultaneously supporting regulatory compliance and legal initiatives. Archived records can be, and often are, placed outside the traditional Tier-1 storage infrastructure onto archive storage solutions. This eliminates the need for normal backup cycles and improves operational efficiencies, while backup operations continue to protect the active data that is changing on a frequent basis.
Organizations have the requirement for both data management practices and backup solutions to protect their active data and archive solutions to store their static fixed content data, as illustrated below.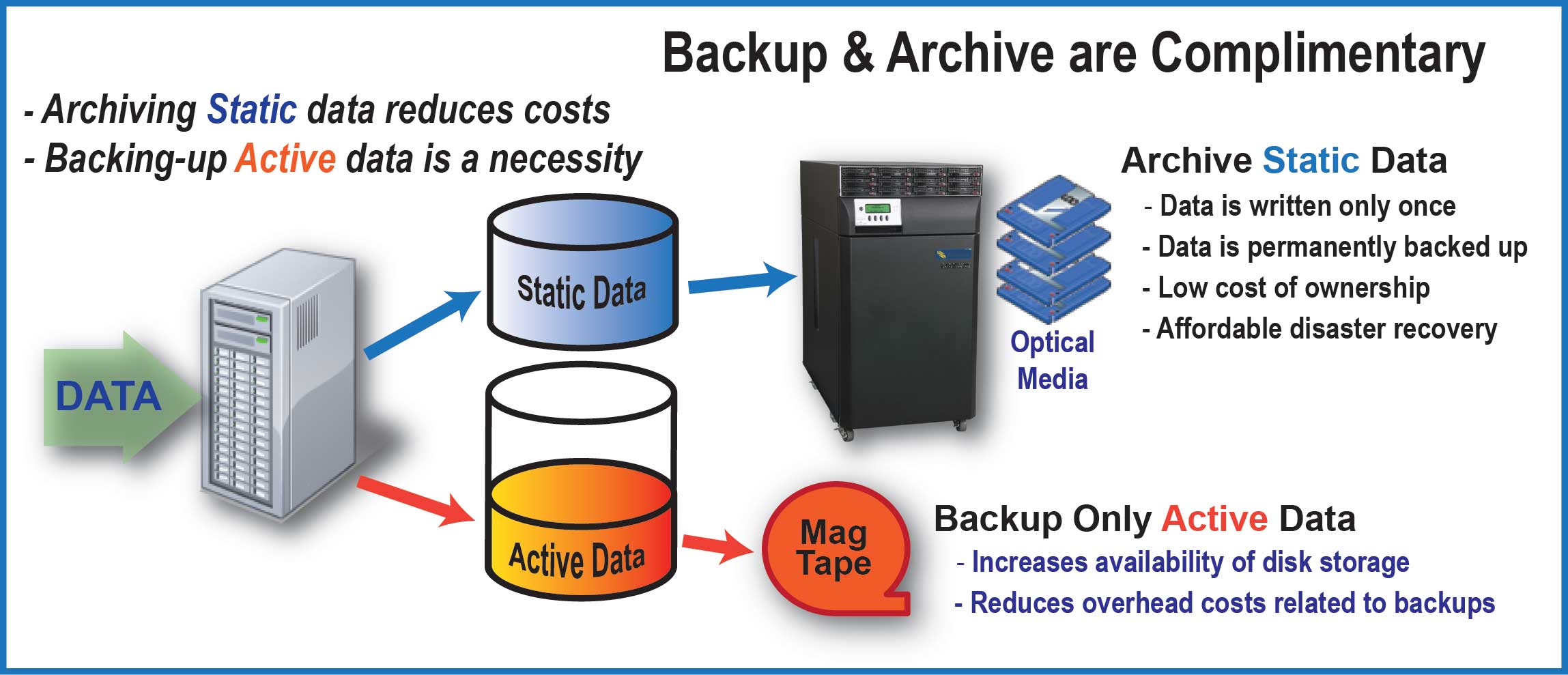 ---
Archiving vs Backup - Data Backup & Recovery Solutions
Classic data backup and recovery applications take periodic images of active data (full image backups,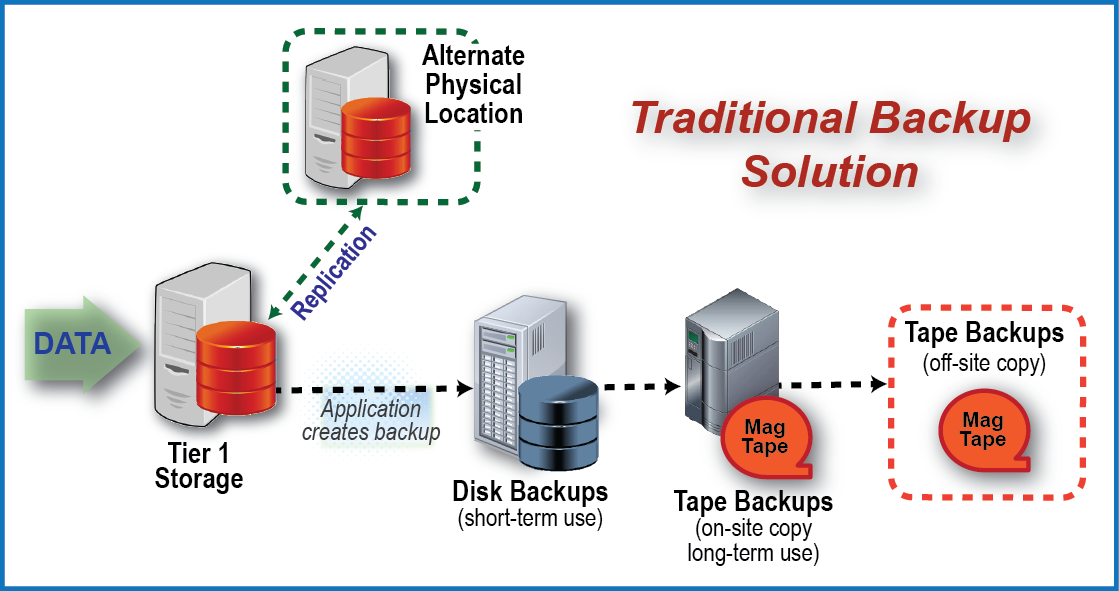 incremental backups, point-in-time backups and possible snapshots). These data backup applications utilize various methods and storage solutions to create backups of active data that are used to restore accidentally deleted or altered files or recover from a catastrophic event.
Most data backups are retained for short periods (weeks or months, with later backup images superseding previous versions). Therefore, the permanency requirements for backup storage mediums are much shorter in duration than archive storage medium requirements. Typical backup appliances are tape backup appliances or disk backup appliances utilizing hard drive arrays.
Examples of Backup and Recovery solutions and storage medium utilized include:
Disk to Disk Backup Appliance: Short-term storage used to back up hard drives with on-site backup images
Disk to Tape Backup Appliance: Long-term backup with images kept on-site and typically off-site
Disk to Disk to Tape Backup Appliance: Short and long-term backup images providing on-site and off-site storage options
Cloud Backup Storage Gateways: Short-term and long-term backup with backups residing on cloud storage, facilitated through cloud backup gateway products
Storage Replication: Real-time data replication, for much more immediate recovery of operations (providing a lower Recovery Time Objective (RTO)
These backup appliances are then used to subsequently restore data, to a state at a particular point in time, should the need arise. Events typically supported by backup solutions include selective data restore, volume restore, and bare metal restore, providing integration with select applications facilitating application of transaction logs to restore all active data to the point of failure.
Attributes of Backup Solutions include:
High-performance read/write streaming: Providing the ability to quickly stream data to and from the backup medium. Random access to select data is a much lower priority
High media capacity with a lower storage cost per GB: As repetitive images of the same data are being made, not only does data remain on tier-1 storage but now multiple backup copies are constantly being created and managed.
Short-term storage medium life expectancy: Backup mediums are short-term in nature, a cheaper storage medium is optimum. Traditionally the preferred storage medium has been tape, with disk and cloud solutions becoming more prevalent as storage prices have declined.
---
Archiving vs Backup - Archive Solutions
Archival storage requirements are very different from those of backup operations. Archive systems must offer resilient long-term data storage while meeting the core requirements of supporting legal and mandatory regulatory compliance initiatives.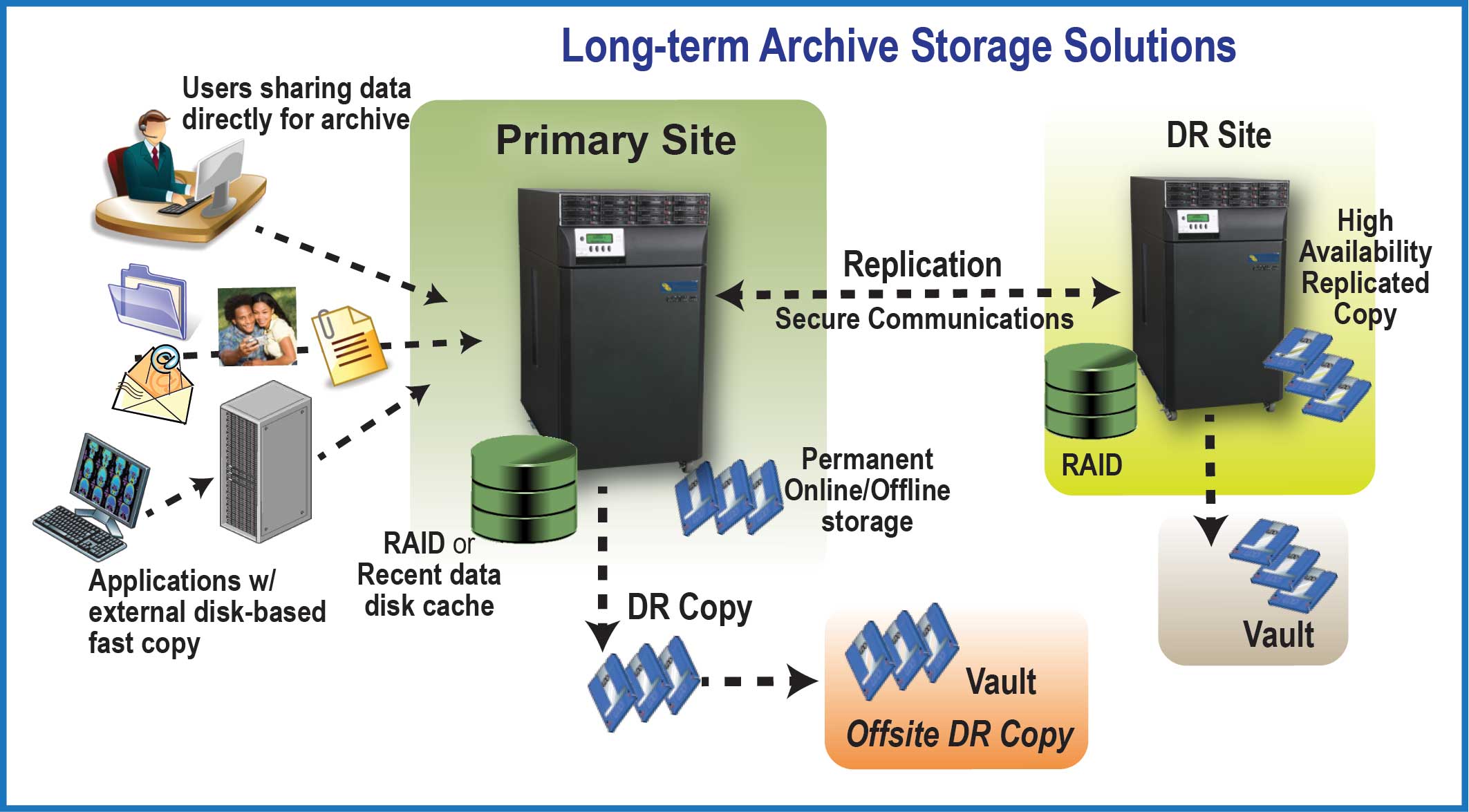 Archive data consists of primary copies of historic data, rather than secondary copies that remain permanent and unalterable. Additionally, media longevity and data authenticity are much more prominent requirements for archive solution environments.
The following illustrates the major functional differences between an archive solution and a backup and recovery Solution. Users or applications will store data on the archive solution that can be thought of as a permanent tier of storage.
Attributes of Archive Solutions include:
Regulatory Compliance - Provides storage of archive data and associated metadata that meets regulatory guidelines.
Data Authenticity - In order to comply with corporate and government regulations on data authenticity, it is crucial that information be protected from modification. The storage medium utilized must ensure that data is retained as originally created, guarantee the data's authenticity, and provide tamper-proof authentication techniques. The associated metadata must be retained along with the data and provided the same levels of protection. Hence, Archive Systems will typically utilize hardware based Write-Once-Read-Many (WORM) storage such as Optical Media to meet these requirements.
Extended storage medium longevity - Storage medium provides extremely long-term storage life of 50 years or higher, eliminating the need for ongoing data migrations as storage mediums such as tape or HDD deteriorate over time.
High-performance random read access - For archives, fast random access is typically the most critical performance consideration. Immediate access to random data stored within an archive is essential. Unlike backup solutions, the performance bottleneck for an archive is not read/write streaming, but in providing fast random access to potentially millions of records requested by thousands of users
Low long-term total cost of ownership - Archive solutions are much more cost effective for managing static data as they eliminate costs related to data backup, power, cooling, and ongoing storage management overhead such as data migrations.
Though disk-based storage (RAID) is an important component of an archive solution, which will provide caching of frequently accessed fixed content data, it does not replace the capabilities of a resilient storage medium such as optical media storage. RAID, while offering unmatched performance and high capacity, is fundamentally a rewritable media with a life span of several years. It cannot be taken off-line for secure vaulting, and the long-term operating cost for RAID storage is costly. By contrast, optical is removable, has high capacity, provides for long-term preservation of data, and offers fast random read/write access capabilities.
Where would you like to go from here?
Learn more-download the Data Management Strategies brochure (click the right sidebar image)